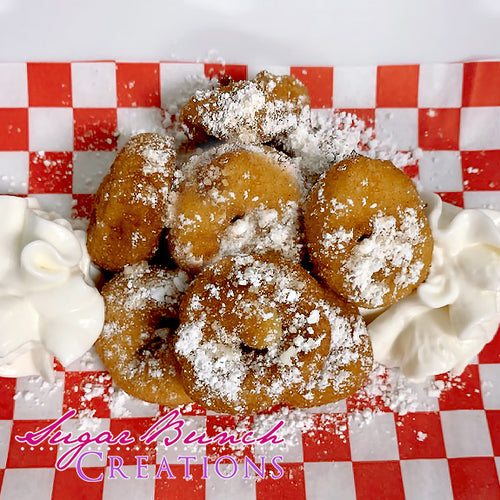 Mini Donut Station
Mini donuts are the perfect mouthwatering snack for all events from breakfast to dessert.  Our mini donut station adds the perfect combination of smell and taste of old-fashioned carnival style donuts to your event.  Our mouthwatering mini donuts are made right in front of your guests, who get to choose from a variety of unique and classic sugar blends and/or from our delicious icing and sauces that are drizzled on top.  People love to eat our donuts and watch them being made.  This provides another level of attraction for your event.  To-go boxes or bags can also be added onto the cart so your guests may enjoy at home the next day!
Includes:
Attendant
3 Different Toppings
3 Sauces
50- 100 Guests: $600, 2 hrs
101-200 Guests: $750, 2 hrs
201-300 Guests: $850, 3 hrs
301-400 Guests: $950, 3 hrs
More than 400 guests, please call for pricing.
No payment of any kind is needed now at check-out. If your date is available we will send you an invoice with the service total including delivery/set-up fees. We will also send over a contract to finalize your station booking with us.
A 50% deposit is needed to Hold & Book your event date with us.
*Some events held on Sundays, Holidays, and Outdoor set-ups may include extra fees.